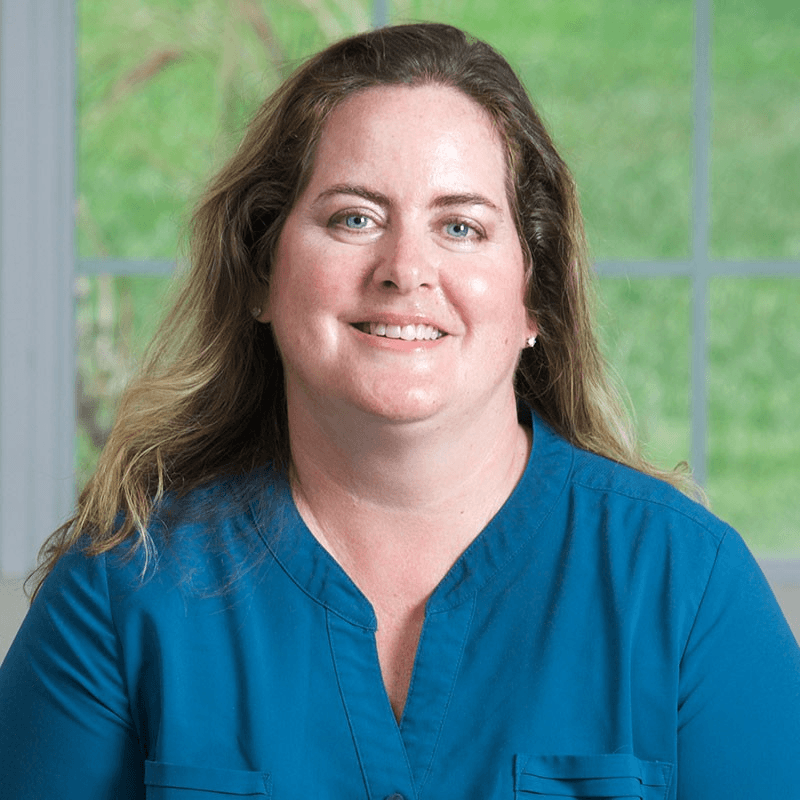 About
Dr. Gallagher graduated from Ross University School of Veterinary Medicine and began work in both large and small animal practices. After five years of private practice, she opened a small animal hospital in North Carolina, and following an interest in physical medicine, became a Certified Canine Rehabilitation Practitioner (CCRP) and expanded her hospital to include a physical rehabilitation referral practice. 
In 2006, she became involved with the N.C. State Veterinary Response Corps and developed a strong passion for public health. She completed a yearlong certification course; Community Preparedness and Disaster Management through the University of N.C. at Chapel Hill, Gillings School of Global Public Health. 
After 15 years of private practice ownership she returned to RUSVM in 2011 as an Assistant Professor of Small Animal Medicine. Dr. Gallagher earned a Master of Public Health (MPH) through the University of Iowa in December 2013, and in June of 2013 attained diplomate status through the American College of Veterinary Preventive Medicine (ACVPM). 
As an Associate Professor of Veterinary Public Health and Epidemiology, Dr. Gallagher currently teaches veterinary public health and epidemiology in RUSVM's DVM program, as well as zoonoses and disaster management in the Master of One Health. She is actively involved in research, primarily focused on health promotion and harm reduction as an approach to One Health problems, human-wildlife conflict, participatory epidemiology and One Health disaster medicine and management. Dr. Gallagher is currently working on a PhD in Health Promotion. 
Publications
Gallagher, C.

, Beierschmitt, A., Cruz, K., Choo, J., Ketzis, J.

 

(

2019). Should monkeys wash their hands and feet: A pilot-study on sources of zoonotic parasite exposure. 

One Health

, 7, 

100088.

https://doi.org/10.1016/j.onehlt.2019.100088

Gallagher, C. A.

, 

Navarro, R., Cruz, K.,

 Aung, M. S., 

Ng, A.

, Bajak, E., 

Ghosh, S.

 (2017). Detection of picobirnaviruses in vervet monkeys (

Chlorocebus sabaeus

): Molecular characterization of complete genomic segment-2. 

Virus Res, 230

, 13-18. 

d

oi:10.1016/j.virusres.2016.12.021

 

Navarro, R., Aung, M. S., Cruz, K., 

Ketzis, J.

, 

Gallagher, C. A.

, Beierschmitt, A., 

Ghosh, S.

 (2017). Whole genome analysis provides evidence for porcine-to-simian interspecies transmission of rotavirus-A. 

Infect Genet Evol, 49

, 21-31. doi:10.1016/j.meegid.2016.12.026

 

Navarro, Ryan,

 

Nair, Rajeev

, 

Peda, Andrea

, Aung, Meiji Soe, Ashwinie, G. S., 

Gallagher, Christa A.

, 

Ghosh, Souvik

. 

(2017). Molecular characterization of canine parvovirus and canine enteric coronavirus in diarrheic dogs on the island of St. Kitts: First report from the Caribbean region. 

Virus Res, 240

(Supplement C), 154-160. 

d

oi:https://doi.org/10.1016/j.virusres.2017.08.008

 

Willingham, A. L., Cruz-Martinez, L., Scorpio, D. G., & 

Gallagher, C. A.

 2016. Global Solutions to Regional Challenges: Bridging the One Health Divide in the Caribbean

. 

One Health

, 

2

, 8-10.

 

doi: 10.1016/j.onehlt.2015.11.003

 

Soto, E., Arauz, M., 

Gallagher, C.

, Illanes, O. 2016. Nocardia Cyriacigeorgica as the Causative Agent of Mandibular Actinomycetoma ("Lumpy Jaw") in a Cat. Journal of Veterinary Diagnostic Investigation, 26(4), 580-584.